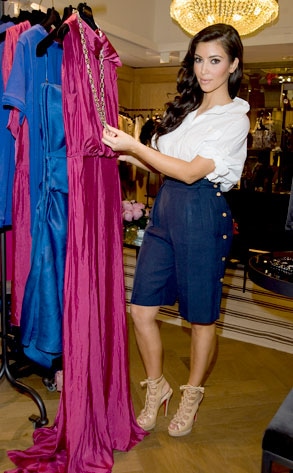 Francois Durand/KK/Getty Images
Kim Kardashian was already the hottest dish of the Super Bowl, but one week later, it's time to dominate New York Fashion Week.
The tents at Bryant Park open this morning, and the E! star will be taking to the runway just hours later as she struts her stuff in the Heart Truth Red Dress Collection show tonight.
But that's not the only thing keeping her busy despite all the snow. She's hosting an entire show by herself as her collaboration with her sisters and Bebe takes to the catwalk on Tuesday.
With all that going on—plus pimping her new fragrance and E! special The SPINdustry—she's shockingly calm.
"I don't really get too stressed under pressure, so I think this whole fashion stuff, being behind the scenes and being a part of it, really works for me," she tells E! News exclusively. "Khloé gets really stressed and frazzled and she's a nervous wreck. Kourtney is always really calm and almost like too nonchalant, like she doesn't care. And I am calm but I can fix it. I'm the one that Kourtney will just be like, 'Oh whatever. You just take care of it.' "
Even on the big day, Kim insists she'll be grace under pressure, but that doesn't mean she won't be running around even while she's playing hostess.
"[I'll be] backstage making sure all the models are all together and their outfits fit right. I'm going to be really hands-on," she says. "We're in the middle of fashion week, and hosting just is me being there every step of the way."
She and her sisters have been that active on the project since the beginning.
"It's kind of a dream for me to be able to design with my sisters…We each had such a significant role in designing it. We start off with a concept, stuff that we like, and then it's just continual meeting after meeting to make sure that your ideas are coming across the way they're supposed to in the designs…It came out like exactly the way we envisioned it!"
The hard part of Tuesday's big event is deciding what to wear.  
"There's so many cute ones," she laughs.
The Kardashians aren't the only celebrity designers showing their wares this week. Stay tuned for all the news of lines by Gwen Stefani, Pete Wentz and Victoria Beckham, as well as a whole slew of current and recent Project Runway designers!