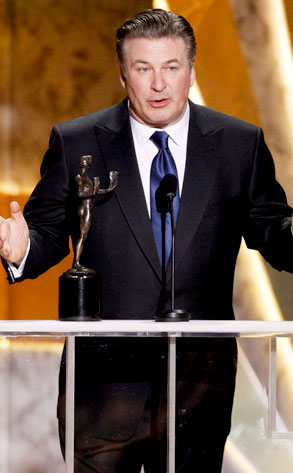 AP Photo/Mark J. Terrill
UPDATE: E! News confirms Baldwin is indeed at work on the set of 30 Rock today.
________
Don't worry—the stress of Oscar-hosting duties isn't getting to Alec Baldwin.
While the 30 Rock star was rushed to New York City's Lennox Hill Hospital last night, the situation was much ado about nothing.
"'This was a misunderstanding on one person's part," the star's rep, Matthew Hiltzik, tells E! News. "Alec was quickly released from the hospital, he's completely fine and will be at work today."
Citing an unnamed law-enforcement source, the Associated Press reported that Baldwin threatened to take pills following a fight with 14-year-old daughter Ireland.
A calm 911 call was made from the actor's Central Park West apartment claiming the 51-year-old was unresponsive. The caller was believed to be Ireland.
The NYPD declined to comment.
(Originally published Feb. 11, 2010, at 4:15 a.m. PT)