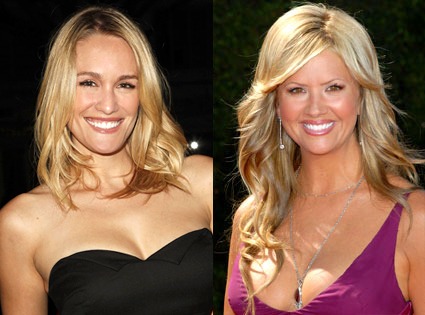 Jean Baptiste Lacroix/Getty Images; Glenn Weiner/ZUMA Press
Forget for a moment about who will replace Simon Cowell on American Idol.
Let's talk about Dancing With the Stars.
I just got word about two contenders said to be in the running to replace Samantha Harris as Tom Bergeron's cohost…
Sources tell me that one candidate happens to be my E! pal Ashlan Gorse. She's not commenting (and no, she's not one of my sources!), but just like Harris did for several years, Gorse would likely do double duty at E! News and DWTS.
Before landing at E! News as a correspondent and fill-in anchor, Gorse was the host of E! News Now.
I'm also hearing that former Access Hollywood anchor Nancy O'Dell is up for the highly coveted job. As you may remember, O'Dell was a contestant in season nine of Dancing but had to drop out before the competition even began because of a knee injury she suffered during training.
Since leaving Access in December after 13 years, O'Dell has hosted various TV specials, signed on as the new spokesperson for Rusk and BaByliss Pro hairstyling products and announced she is designing a line of—I kid you not—outdoor furniture.
Harris announced late last month that she was stepping down from DWTS after eight seasons to focus on her jobs at The Insider and Entertainment Tonight Weekend.
DWTS producers should be announcing a replacement pretty soon. The 10th season kicks off on March 22.
Whoever gets the job better be a big ball of happy, perky energy.
"When those dancers come off the dance floor and if they got a bad score, they're not in a good mood," DWTS judge Carrie Ann Inaba recently told me. "Those ballroom dancers are not as easy to handle as people might think. We need somebody who can be uplifting, but they also have to be strong and tough."
A rep for DWTS declined to comment, simply saying, "We don't have anything to announce yet regarding Tom's cohost for the upcoming season."
_______
Speaking of Dancing With the Stars, why not take a trip down memory lane by taking another look at photos from Gilles Marini's 2010 calendar.