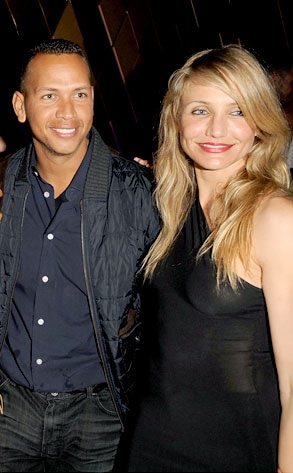 George Pimentel/Getty Images
Say it ain't so!
OK! magazine claims one of our fave gals Cameron Diaz was spotted getting her flirt on over the weekend with notorious slug 'em and leave 'em douche Alex Rodriguez.
The pair was in Miami for the Super Bowl, and Cam was apparently grinding all over A-Rod at the CAA bash at the W hotel Saturday night.
So did Alex and Cameron take their flirting a bit farther this past weekend?
"I don't buy it," claims our South Beach spy who witnessed the same supposed dance-sesh go down at the CAA party.
"He's been flirting up a storm with some other blonde," adds our local sexalicous scenester and A-Rod party pal.
Cam and Alex's quick exchange was just that. Quick, friendly and nothing more to it. Fewf!
Apparently Stray-Rod has had his eye on lots of the females down in Miami recently, hardly choosing to settle down with just one. The mystery blonde in question will come and go just like the rest of them.
Glad to know Kate Hudson has moved on from her quick courtship with Rodriguez just fine, too. We always have a soft spot for babes who can use and dispose of guys, like far too many of them do to gals out there.
Are you all glad Cameron dodged the douche bullet—or is this a couple you could go for?