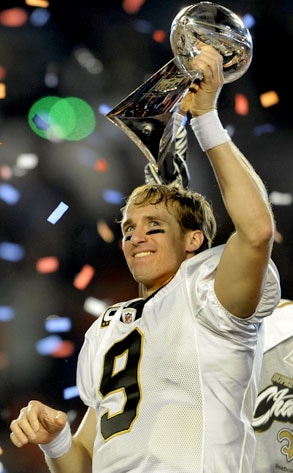 TIMOTHY A. CLARY/AFP/Getty Images
Oh, last night's Super Bowl—and Super Bowl commercial-fest—was kinda, sorta popular, all right.
The New Orleans Saints' feel-good upending of the favored Indianapolis Colts averaged a record-smashing 106.5 million viewers, CBS said, making the game the most-watched Super Bowl anything ever in TV history. (Step aside, M*A*S*H finale.)
As for the important stuff—you know, the ads—the Doritos kid edged Google's Parisian love story for honors as the most-buzzed-about spot, a Nielsen Media Research survey said. But what about Betty White?
Alas, White and Abe Vigoda's bone-crunching Snickers ad did not make Nielsen's Top 10. Then again, neither did David Letterman and Jay Leno's shocking Oprah-attended summit, so they're in good company. Also, the White-Vigoda bit was named the "most-liked" commercial in USA Today's annual Super Bowl Ad Meter—so there.
Predictably, more people tuned in the game as the close contest got closer and closer. The final, decisive 15 minutes were the game's highest-rated, while the Who-rocked halftime show led to tune outs...or maybe just bathroom breaks.
(Originally published Feb. 8, 2010, at 9:15 a.m. PT)