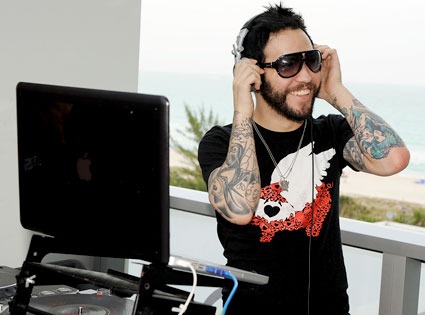 Rick Diamond/Getty Images
Being a father is more important than being a Fall Out Boy right now for Pete Wentz.
The rocker caught an early flight to Miami to deejay the launch of new Tide Plus Febreze Freshness Sport at the W, where he dished on the future of his band.
"We're just on a break," he told me of FOB's current status. "I think that after having Bronx, and with my wife [Ashlee Simpson] having this much of a workload right now, it has been such a good thing for me. There's nothing I wanna be better at in the world than being a dad."
So would the rocker be fine if Fall Out Boy was no more? 
"Before, it was like I might not be OK if Fall Out Boy doesn't come back," he said of his mindset before baby Bronx's arrival. "But I think I'll be OK. It's too soon to say [if we'll we back]. We just got burned out."
While he's not performing with the band right now, he did work the turntables at the bash, where Serena Williams, Kellan Lutz and Terrell Owens were hanging out.
Hollywood Party Girl is in South Beach for Super Bowl! Follow me on Twitter for all the soiree scoop as it happens.