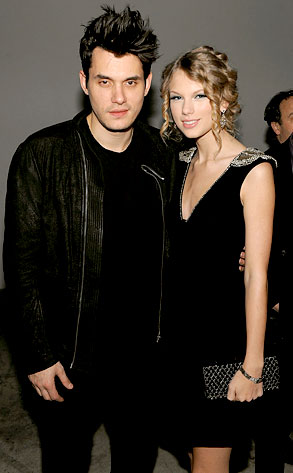 Dimitrios Kambouris/Getty Images
Dear Ted:
John Mayer said recently he was tired of girls with "daddy issues." It seems to me that is the only type of girl who would put up with his crap, particularly after his Rolling Stone interview. Any well-adjusted woman would run screaming from his games—save, perhaps, Taylor Swift? Please tell me the rumors aren't true. He seems so smug as he ruins one woman's reputation after another and Taylor seems naive enough to fall for his smarminess.
—F
Dear Hopefully Not So Naive:
Well this much I have to say: If Tay ditches polishing her new collection of Grammys to hook up with D-bag John Mayer, she won't be getting one of the Love Story romances she always sings about. I'm thinking less glass slippers and ballrooms and more penicillin and ball gags. Could her audience take the Alanis Morissette Taylor? Doubt. Don't think she could, either, pray that babe wises up pronto, though I don't believe she has.
Dear Ted:
Love the article about Tom Cruise's Oscar. Got another wishful thinking Oscar contender for ya: How about our favorite R.Pattz playing Holden Caulfield? I think he would be perfect! I was wondering if it would be any easier to secure the rights to Catcher in the Rye now that J.D. Salinger has passed away. Maybe Summit can put their money bags and masterful manipulation to good use for R.Pattz for a change! And R.Pattz at the Oscars? Hot!
—Jenn
Dear Robert in the Rye:
No plans yet for a Catcher in the Rye movie, but J.D. himself—who made it his mission to keep the movie from being made while he was alive—accepted the fact that there could be a postmortem adaptation. But Summit is going to have to cough up some big-time dough if they expect to outbid the likes of Steven Spielberg or Harvey Weinstein for the rights. Gosh, think they have it? We all know that Rob can play the moody rebel perfectly, so why not try it in something a little more esteemed than the Twi franchise. I, too, see the nominations now!
Dear Ted:
I love what you do and, I must say, you keep me very entertained. I just want to wish you a very hot and steamy night this upcoming Valentine's Day. Also, will that movie Valentine's Day with all those actors be any good? I'd hate to waste money and a good date on it if it's not.
—Narissa