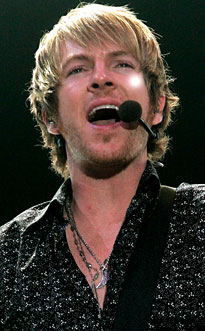 AP Photo/Dan Steinberg
A happy marriage and a new baby—Rascal Flatts guitarist Joe Don Rooney's life is anything but a country song.
The musician and his wife, former Playmate Tiffany Fallon, have welcomed their first child, a son named Jagger Donovan Rooney, the band's publicist announced Tuesday.
Jagger made his big debut Saturday in Nashville, checking in at 6.45 pounds and measuring 20 inches. Everyone is said to be "doing fine."
"We are absolutely blown away by this little miracle gift that God has given to us," Rooney and Fallon said in a statement. "We can't wait to see what the future has in store for baby Jagger and our new family!"
The couple tied the knot in April 2006.
Rascal Flatts' hits include "Bless the Broken Road," "Take Me There," "What Hurts the Most" and a cover of "Life Is a Highway" from the Cars soundtrack.