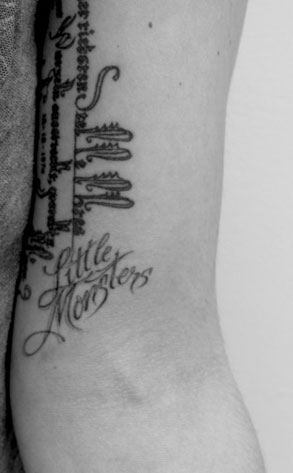 Twitter
After a big Grammys night that included three costume changes, two Grammy wins and one Elton John duet, Lady Gaga decided to do a little permanent skin art scrapbooking.
Honoring her fans, Gaga got her pet name for them, "Little Monsters," scrawled on her arm. "look what i did last night. little monsters forever, on the arm that holds my mic," she tweeted along with a picture. "chola tattoo from shamrock, so proud."
So not only did her Little Monsters get various Twitter shout-outs throughout the night—"Backstage getting ready, feels like youre here with me tonight little monsters. Thank you for a beautiful year full of love and music.Iloveu"—but now they're permanently a part of her life.
Best customer service ever.