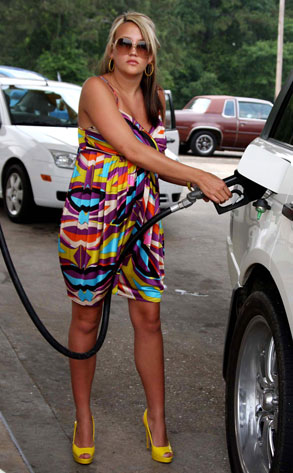 INFdaily.com
If he wanted to contribute to Jamie Lynn Spears' baby book, this wasn't the way to go about it.
A paparazzo accused of stalking Britney's pregnant little sis and her fiancé, Casey Aldridge, was arrested Tuesday in Mississippi after the Spears family filed a complaint, saying he wouldn't leave the duo alone.
Edwin Merrino, who was released later in the day after posting a $1,096 bond, has denied harassing the couple. He told the Associated Press Wednesday that he was at least 200 feet away from Spears and Aldridge when he was busted while trying to take a picture of them using a telephoto lens.
"I just think since I was the only one there, it was just easier for them to single me out," the Los Angeles-based shutterbug said, adding that he didn't have much luck during the short time he was in the area.
"The one picture I got was kind of by luck. I got lucky when I saw them at Wal-Mart when I was buying deodorant."
He's due in court June 8, according to the McComb, Miss., Enterprise-Journal, which first reported the arrest.
The 17-year-old Spears, who said she was 12 weeks along when she confirmed her pregnancy in December, is due sometime toward the end of this month or in early July. She and Aldridge were spotted recently running errands in McComb, which is near the Louisiana border.