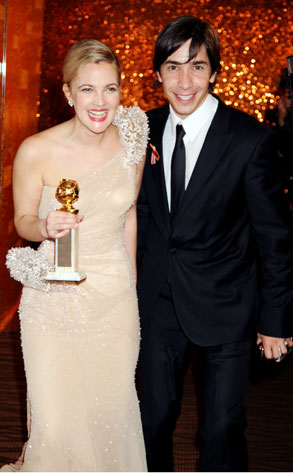 Jeff Kravitz/Getty Images
Maybe after another 50 first dates, Drew Barrymore and Justin Long will be ready to take the plunge...
But in the meantime, Long has not popped the question yet, according to the actress' rep, who told E! News that Barrymore's status update on Facebook reading, "I'm engaged," means nothing.
"Not true," the rep said.
Their relationship seems just fine and dandy in the meantime, however.
A tuxedoed Long was on Barrymore's arm at both the Golden Globes and SAG Awards this month, where she scooped up wins for her role as Little Edie Beale in the HBO movie Grey Gardens.