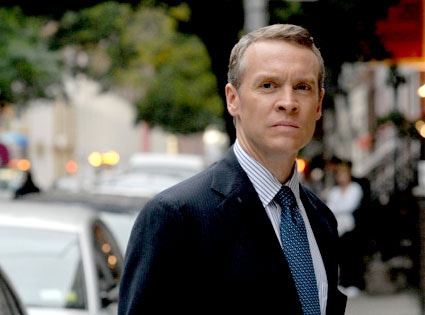 Barbara Nitke / FX
Tate Donovan is a dead man.
No, not because of those hatchet jobs with Jennifer Aniston and Sandra Bullock, but, as any Damages fan knows, literally. In Monday's season premiere twist, his character Tom Shayes turned up cold, blue and stiff in a flash-forward.
We caught up with the living dead at an event toasting season three, and Mr. Donovan himself had plenty to say about the fact that he'll be unemployed in a matter of months...
Glenn Close's Patty Hewes fires and rehires you from week-to-week, but now you're dead! How's that going to work?
I know! They kill me, and I don't get rebirthed either! But I've got the whole season. It's a great season for my character. What they've given me is spectacular. The welfare of Tom's family gets threatened, and he decides to leave being in a supportive role to Patty Hewes and verge off. And he gets into some pretty dangerous waters.
What's it like knowing where Tom's going but not knowing how he's getting there?
It's liberating to not know where you're going, oddly enough. The other day, there was a scene we shot, and I was giving some information to somebody, and then I read the next script, and I found out that all that information was wrong, and I was lying. So, you're like, "Oh, well, I didn't tip the hat that I was lying." It makes you a better actor. They give you a lot of subtext by not telling you where you're going.
Do you like it better that way?
I kinda do. At first, when actors come on the show, they're like, "Whoa, I need to know where I'm going. I need to know where I've been." I'm sort of used to it now, and I like it.
As excited as you are about having such a good storyline, are you sad about not being able to do season four?
Absolutely devastated. I love this show. It's one of the best jobs I've ever had. Working with this cast, I direct, I get this great role, the writers are so much fun.
Are you gonna miss Tom or do you feel the pros (a cool storyline) outweigh the cons?
________
Check out some of TV's best Spoiler Stills right here.