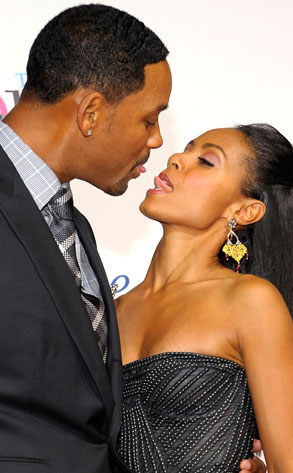 Charley Gallay / Getty Images
Dear Ted:
What's the deal with Will Smith? First, he refuses to play a gay man in Six Degrees of Separation. Then rumors persist that he and Jada have an open relationship. Plus, there are those gay rumors. P.S. I think it's funny that a photo of Jake G. is featured in the January edition of Glamour with the heading "The Man You Thought Was Gay But Wasn't." Interesting choice of actor, no?
—T
Dear Funny, Indeed:
But isn't Glamour largely for women who aren't all that sexually active yet? Doesn't that kinda make sense? As far as Will and Jada goes, look, said it before, I'll say it again: for somebody who screams on press lines what great sex he and Jada have, well, talk, talk, talk.
Dear Ted:
Thank you for supporting Rob and Kristen. I love them as a couple, but I don't like all these bloggers who are too dedicated to both of them. Kristen likes to keep her personal life as private as she can. What can you say about Kristen's big problem with the bloggers? Don't you think bloggers are more of a burden than a blessing for her?
—C
Dear Robsten.com:
While K.Stew may want to keep her love life on the DL, she needs her name in the headlines if she wants her career to keep skyrocketing. So we bloggers may be a tad bit annoying, but our obsession with all things Robsten is just making Kristen a bigger and bigger star each time she's mentioned.
Dear Ted:
Is Joshua Jackson Toothy Tile's hubby Grey Goose?
—Paula