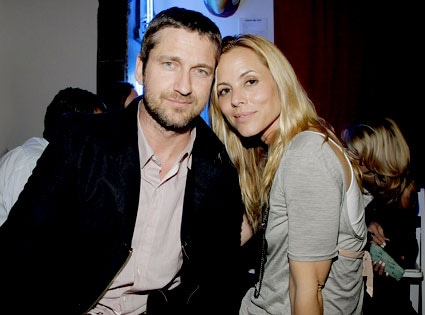 Noel Vasquez/Getty Images
Gerard Butler is more than just a pretty face.
After participating in the Hope for Haiti Now telethon, The Bounty actor joined Nicole Kidman, Penélope Cruz, Javier Bardem and Daniel Craig for a brunch at director Paul Haggis' house. Together, they helped raise $4.5 million for Artists for Peace and Justice, a new organization working to bring relief to the disaster-stricken Caribbean nation.
And then just last night, Butler hit another Artists for Peace and Justice fundraiser with cofounder Maria Bello in Santa Monica.
Keep reading to see what Gerry told us; plus, find out what another Hollywood hunkster is doing to assist in relief and recovery efforts...
"This is...to raise more money, keep it in the public consciousness," Butler told reporters. "It's a marathon, but the longest journey starts with the first step.
90210 star AnnaLynne McCord visited Haiti at Christmastime. "I'm trying to get [another] trip in," she told us at the event. "It's a beautiful country with beautiful, resilient people who've suffered a lot but are a lot happier than a lot of the people in L.A. that I know."
Another star who's been to the country? Olivia Wilde, who was there just before the earthquake struck. "I'll be back," the House actress said. "Haiti is part of my life. I'm devoted to this. This is not something that I'm doing once and patting myself on the back for. I'll be back as soon as possible."
Meanwhile, earlier today, the World Vision organization released a new PSA featuring Hugh Jackman asking for donations.
"Your gift will provide things like food, water [and] medicine, along with the help families need to rebuild their lives," the X-Men star says. "Join me in standing with the people of Haiti."
—Reporting by Brett Malec