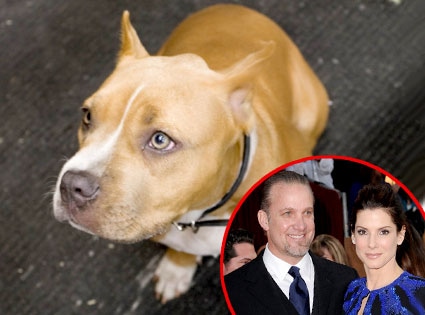 Steve Granitz/Getty Images
Jesse James has been missing his Cinnabun in the mornings.
Sandra Bullock's motorcycle-building hubby has enlisted Find Toto, the same service that helped Jessica Simpson look for her ill-fated Daisy, in the search for his lost pit bull, Cinnabun.
The 9-month-old pup has been gone since Jan. 25, but with help from a 30-second audio message alerting neighbors to be on the lookout and frequent Twitter updates, there may be a crack in the case.
"She has not been found yet that we know of," Find Toto's Colleen Busch told E! News Thursday. "There was just a recent sighting about three or four hours ago off the 405 and Seal Beach Boulevard."
Which isn't too far from Bullock and James' Seal Beach home, so we're hoping for the best.
"I'm in contact with them all day today," says Busch. "We've been going back and forth checking on tips. [Bullock] has been tweeting everything and retweeting all of our posts."
There is also a Facebook page set up (by a fan) for the Cinnabun cause, and James is offering a $2,000 reward.
And there is hope. Although the Simpson saga had a sad ending, Find Toto has had plenty of success in the past, helping both Brooke Burke and Victoria's Secret model Alessandra Ambrosio find their lost canine pals over the past year.
Busch says that in the two years since they've been open, Find Toto has helped recover around 2,000 pets.
________
We wish Sandra and Jesse the best of luck with their search! Check out the other pups who mean the world to their celebrity owners in our Very Important Pets gallery.