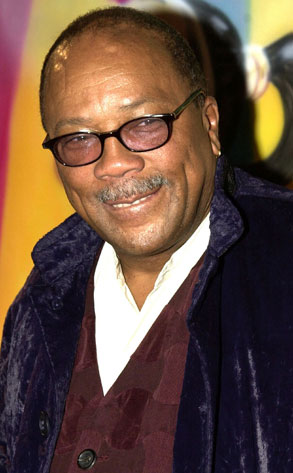 Mike Guastella/WireImage.com
The world still needs help.
It's been 25 years since Quincy Jones helped gather the biggest names in music to record "We Are the World," but the song is as relevant today as it was then.
Jones confirmed to me today that he's helping spearhead a new recording of the charity song, with the proceeds going to help Haiti. The new version will be recorded on Monday in Los Angeles.
"It's the 25th anniversary and it's perfect timing," Jones said at the SLS Hotel in Beverly Hills, where he was celebrating the launch of his new watch collection for Audemars Piguet. "It's not an accident, man. That's God. It will be 'We Are the World' for Haiti."
Jones declined to name which singers have committed themselves, but I can tell you...
The lineup may already include Miley Cyrus, Jennifer Hudson, Will Smith, Jason Mraz, Sugarland, Sheryl Crow, Mya and teen sensation Justin Bieber, among others.
"I want to get a final list before I put it out." Jones said.
Director Paul Haggis will likely film Monday's recording session, a source confirms.
The original song, which benefited African famine relief, was written by Michael Jackson and Lionel Richie and coproduced by Jones and Michael Omartian. It featured Jackson, Lionel Richie, Stevie Wonder, Billy Joel, Diana Ross, Bruce Springsteen, Cyndi Lauper, Bob Dylan and Ray Charles.
This isn't Jones' first undertaking to help the disaster-stricken Caribbean nation.
"I have two friends who are donating two $500,000 power generators," he said. "Another friend…is going to rebuild the [presidential] palace. All his money, his crew and his design so they don't even have to think about it."
Jones' partnership with Audemars Piguet also includes a $1 million donation from the watch company to the Quincy Jones Foundation.
Meanwhile, Jones said he is not involved with the Grammy tribute to Michael Jackson, but revealed that he will be opening up about the late King of Pop for an upcoming special on CNN.