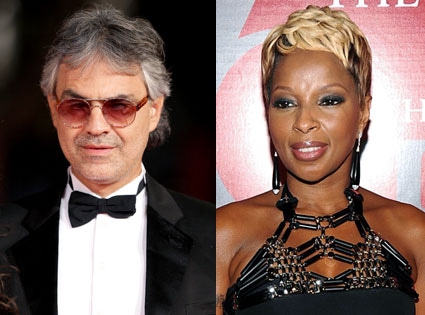 Venturelli/Getty Images, Dimitrios Kambouris/Getty Images
George Clooney isn't the only "G" working to raise funds for the Haiti relief efforts. The Grammys are getting in on the action too.
The music awards show—airing live this Sunday night on CBS—is putting together a special segment dedicated to helping the earthquake-torn nation. And they're getting some seriously heavy hitters to collaborate on the mission.
Nine-time winner Mary J. Blige and übertenor Andrea Bocelli will be singing Simon & Garfunkel's classic "Bridge Over Troubled Water," on the 40th anniversary of that classic track's Grammy wins for Record, Album and Song of the Year.
Blige and Bocelli's sure-to-be-moving cover will be available for download in iTunes following the telecast, with all proceeds benefiting the Red Cross.
________
Other than downloading such special songs, find out what you can do to help right here.