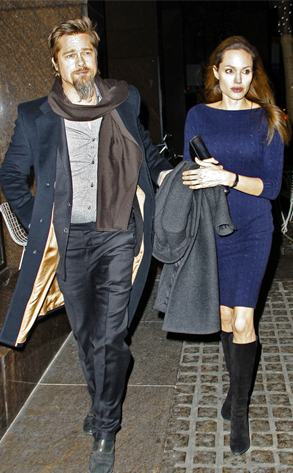 CWNY/Fame Pictures
Dear Ted:
No comment on the Brangelina supposed breakup? I know you know what's going on, you sly fox. Throw us a bone! Love ya.
—Mel
Dear Big Question:
Wouldn't you like to know? You know what they say, the couple that cheats together, stays together...kidding! I'm told Brad and Angelina have not broken up, but indeed, "something's up," as my Brangie sources whisper. More deets tom, but I can tell ya this much: The formerly golden couple ain't exactly lookin' (or smellin') so great.
Dear Ted:
Of late I have become obsessed with the Sookie Stackhouse book series. This, combined with my enthusiasm for True Blood, has me all in a tizzy for June to hurry up and get here! I can't wait to see what's in store (and who gets naked)! My question is: Is the hunky Alexander Skarsgård the Blind Vice Nelly Fang? I don't think so, but I want him eliminated ASAP!
—Kristen
Dear Vamp Girl:
Oh, darlin', I'm getting' a little bored with people demanding to know their fave hunk idols either are or aren't the culprits in the Blind Vice series, so guess what: Just like Alex's next season of nakedness, I'm gonna make ya wait on this one, sorry.
Dear Ted:
Please, oh, please tell me that Taylor Swift and John Mayer are just friends? I know they've been seen together a lot recently and there has been some speculation. She is way too good for him.
—Lori