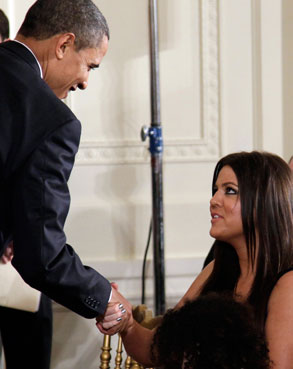 AP Photo/Alex Brandon
Khloé Kardashian Odom was roaming around the White House earlier today along with the rest of the Lakers wives.
The ladies took a private tour of the White House before joining their men in a ceremony honoring the team's 2009 NBA championship
She even got to shake hands with President Obama and was obviously delighted by the honor. "Such an amazing day! I just meet Obama with my husband! :)," she tweeted.
Lamar echoed that sentiment on his own Twitter, "This is unreal."
Meeting the president—just one more perk of marrying a Laker.