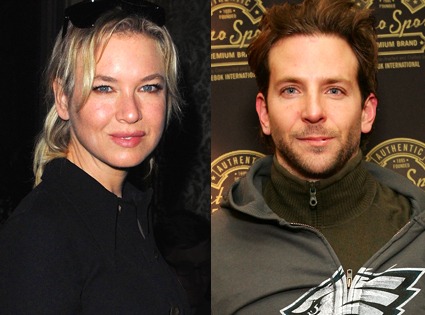 Pascal Le Segretain/Getty Images; Courtesy of Getty Images
Bradley Cooper and Renée Zellweger are trying their best to be incognito while hitting the Sundance Film Festival together.
The Coop is in town to support his BFF (and Hangover bud) Justin Bartha, whose flick Holy Rollers is premiering here in Park City.
The couple tried not to be seen together Saturday night, but all didn't exactly go according to plan...
Bradley and Renée showed up to the premiere of Ryan Reynolds' new movie, Buried, late Saturday night, but the odd-for-some-reason pair were immediately spotted.
Get this—B & R weren't exactly too fond of the fact that they were being noticed, which is why Sunday they made sure to keep their distance so no pasky paps could spot 'em.
While B.C. was already confirmed for Sundance, Renée was the surprise guest, so Bradley went about his planned day, hitting up the Usana/Kari Feinstein Style Lounge on Main Street.
Although Cooper has much better gifting suite etiquette than Jon Gosselin, he did make sure to pick up a little extra free stuff...possibly for a certain someone?
Says a swag suite source:
"Bradley was excited to pick up the Eagles gear...and he did grab an extra shirt in a very small [size], saying it was for a friend—but didn't specify exactly who his friend was."
It's probably for his tiny GF, natch, which is what everyone in the suite thought as well, since they all knew Zellweger was lurking somewhere around the corner!
Another Sundance star possibly suiting for a special someone was...
Kristen Stewart, who hit up the Lia Sophia Lounge at the Lift over the weekend, picking up some Diesel men's cologne.
We're told K.Stew was "very nice" as she and Dakota Fanning hit up the gifting lounge, but Kristen was very eager to pick up some men's fragrance.
Diesel doesn't exactly seem like a dad cologne...so obvs we can only speculate it's for brother or boyfriend.
Are we getting ahead of ourselves if we assume it's for Robert Pattinson? Nah—with that beard he's sporting lately, it looks like he could use a little refreshing spritz!