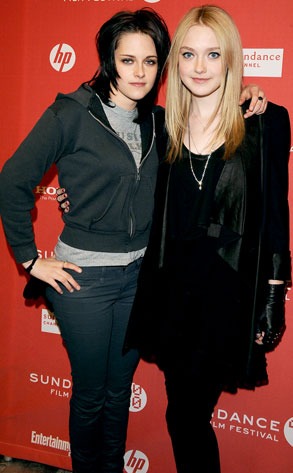 George Pimentel/Getty Images
Filming her kissing scene with Dakota Fanning in The Runaways was just another day at the office for Kristen Stewart.
"It's just something we did," Stewart said at last night's Sundance Film Festival premiere of the biopic about Joan Jett's 1970s all-girl rock band, The Runaways. "In this story, it's so not like a romantic thing. It's just something that they just do."
Besides, Stewart added…
"We had so many other really crazy things that we were intimidated by, like, we had a performance that day," Stewart said. "So when that came up on the schedule we were like, 'Whoa!' But then, 'Alright, whatever.' It was sort of just like another thing."
If you haven't heard by now, The Runaways stars Stewart as Jett and Fanning as the band's Lolita-esque lead singer, Cherie Currie.
It sounds like working with real-life Joan Jett on the performance numbers was much harder on Stewart than getting steamy with Fanning.
"Horrible!" Stewart laughed when asked what it was like singing and playing guitar in front the legendary rock star. "At first, she was like, 'Come on!' She was actually kind of getting upset with me. She was like, 'Ya gotta relax.' [But] I kept telling her, 'I can't do it until we shoot it. Like I literally can't.'"
Meanwhile, after last night's screening, the cast headed over to Bing Bar for a packed-house party. Stewart, Fanning, Michael Shannon and a slew of other castmembers huddled in a VIP corner.
We're happy to report that the underage stars haven't adopted the rock n' roll lifestyle, and stuck to Coca-Cola and water.
And don't go thinking this is all The Runaways scoop we have for ya. Make sure to keep coming back right here to get even more about one of this year's most buzzed-about flicks in Park City.
________
Should you see The Runaways when it hits theaters? Find out here.