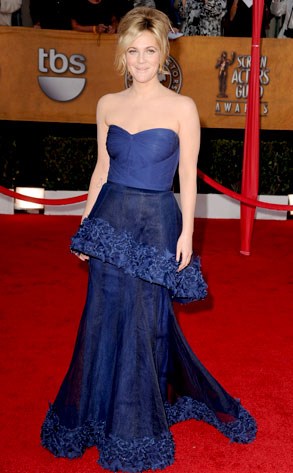 Steve Granitz/Getty Images
When Drew Barrymore won her Golden Globe for best actress in a miniseries last Sunday, we kind of ignored her on the fashion front. We just weren't sure what to do with those sea urchin things attacking her dress.
But we definitely know what to do with today's striking Monique Lulliher SAG Awards dress—love it! The nude makeup is a little weird (and makes it look like she's missing lips), but we love the dress, the hair and her general adorableness so much, we're willing to overlook some tiny imperfections.
And Drew isn't the only one who won us over after a lackluster Globes red carpet less than a week ago. Lea Michele came back with a stunning teal number after her dark princess dress, Kate Hudson found a sexy white dress she could actually pose in and Tina Fey made up for her kooky dress that almost everyone hated.