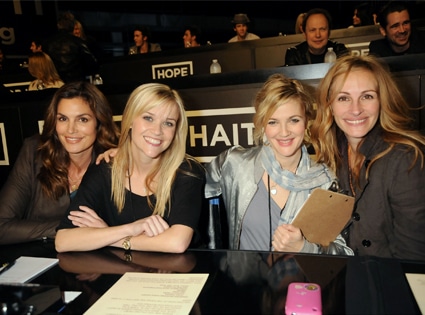 Jeff Kravitz/MTV Hope for Haiti Now via Getty Images
The hard work of Wyclef Jean, George Clooney and countless other celebrities to bolster Haiti relief efforts has paid off…big-time.
The philanthropic stars' Friday evening Hope for Haiti Now: A Global Benefit for Earthquake Relief telethon raised more than $57 million to date for relief efforts in the Caribbean country, E! News has confirmed.  The star-studded event shattered records for money donated by the public through a telethon.
Clooney and Jean led efforts for the event, rounding up celebrity troops from Hollywood and beyond to answer phones for donations and perform for the sake of charity.
Tinseltown's bigwig phone bank included the likes of Jenna Elfman, Tobey Maguire, Meg Ryan, Tim Robbins, Charlize Theron, Julia Roberts, Jason Bateman, Reese Witherspoon, Brad Pitt, Drew Barrymore, Mel Gibson and many more.
Alicia Keys, Mary J. Blige, Justin Timberlake, Bono, Jay-Z, Rihanna and Stevie Wonder were just a few of the superstar musicians who rocked the stage during the event to encourage the public to give to the much-needed cause.
Their efforts garnered the biggest one-day album preorder in iTunes history, making it number one on iTunes in 18 countries.
"The public has set a new standard of giving for a relief telethon with Hope for Haiti Now, and the donations continue to come in—people can still contribute 24/7 via phone, web and text," Lisa Paulsen, president & CEO of the Entertainment Industry Foundation, said.
The Hope for Haiti Now fund will continue to accept donations for the next six months through its website at www.hopeforhaitinow.org; by phone at 1-877-99-HAITI; by texting "GIVE" to 50555; or by mailed check or money order.
_______
Check out some of the celebrities who helped out at the Hope for Haiti Now telethon in our gallery!