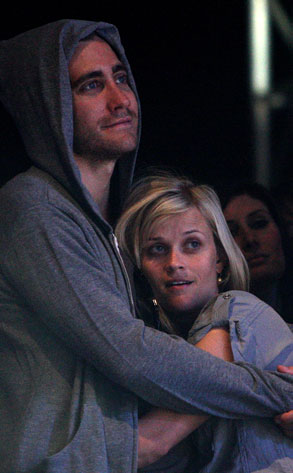 Frazer Harrison/Getty Images
Dear Ted:
I'm sorry to burst your cynical bubble—I work in a tiny cafe in London far, far away from the glare of the paps, and Jake and Reese used to come in frequently with her children. They were an extremely affectionate and obviously in love couple. What would be the point of such displays and spending weeks in another country together if their relationship wasn't genuine? Also, he is hot stuff! Aye Papi!
—X
Dear Shabby Sherlock:
You might want to get a new magnifying glass because you're missing what's right in front of your eyes: nothing. So, what would be the point of America's sweetheart and one of Hollywood's sexiest young studs coupling up? Oh, I don't know...movies to sell with their mush?
Dear Ted:
I can't get through a day without you—I worry when I haven't seen you by lunch. I have a Blind Vice guess I'm about a million years late on: Are Judas Jack-Off and Dashed Dingle-Dream Chad Michael Murray and Sophia Bush? And how would anyone ever know they are correct? You can't just come out and say so?
—Cara
Dear Gender Confused:
For Sophia Bush to be Dashed Dingle-Dream, Judas' tossed to the side ex-boyfriend, she would have to be packing some heat...if you know what I mean. If sexy Sophia had the, um, "equipment," to be anyone's ex-boyfriend that would be quite the Blind Vice in itself!
Dear Ted:
Does Stinky Carrot-Crotch have something in common with Michael J. Fox and Liza Minnelli?
—Cee