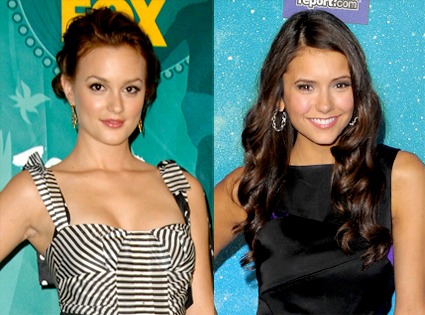 Steve Granitz/Getty Images; Jason Merritt/Getty Images
Good news if you are a fan of Leighton Meester and Nina Dobrev: Their executive producer has promised to "work on" getting these real-life friends to guest star on each other's CW shows.
Here's what Vampire Diaries and Gossip Girl executive producer Bob Levy tells me:
"I love that idea!" Levy said of having Nina guest star on Gossip Girl and Leighton guest star on Vampire Diaries some time in the future. The idea came up while I was chatting with Nina and Levy at a recent press event, and Levy said: "We're gonna work on that. You have my word."
Leighton and Nina became friends while shooting the upcoming big-screen movie The Roommate, set to come out later this year. And Nina told me she would jump at the chance to make a guest appearance on the Upper East Side. "Oh my god, I would love to be on Gossip Girl," Nina said. "I feel like it's hard to do because we're both so busy. But I would love to, and I would for her to be on our show. Leighton would make a great vampire, I think!"
The hitch, of course, is working out the logistics, given that Vampire Diaries shoots in Atlanta and Gossip Girl shoots in New York. "The trick is tearing Nina away from Atlanta," Levy explained. "She's in almost every scene of every episode. So it's hard scheduling-wise to work that out. But I love that pitch! Good pitch. We're gonna work to make it happen."
Nina and Leighton, I usually charge 10 percent commission in such cases, but in this case you can pay us fans with some good crossover TV!