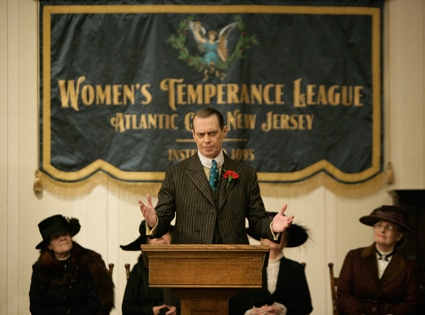 Craig Blankenhorn/HBO
The new Martin Scorsese TV show is supposed to be the most expensive ever made. Come on, really? What about Lost?
—Jemi, Chicago
There is a lone report floating around that says the pilot for the upcoming HBO show Boardwalk Empire will cost $50 million. It's a story from an anonymous source, but not entirely unbelievable.
Look, you have a show involving Steve Buscemi, Mark Wahlberg and Martin Scorsese. If those three guys ask you for $50 million, you give them $50 million, or you wake up one day with a face like Mickey Rourke after he's been beaten by Joe Pesci with a baseball bat.
Does that figure topple Lost as one of the biggest budget pilots ever? Well...
If the Post story is to be believed, the pilot would be the most expensive TV show ever produced.
As for Lost, it's pretty pricey, but if the reports are to be believed, not as pricey as the new project from Scorsese.
The first season of Lost, shot in Hawaii, cost a reported $2.5 million to $2.8 million an episode. Lost's two-part pilot episode was, at the time, the most expensive in the history of television, reportedly costing between $10 million and $14 million. In 2005, the year it was shot, the average cost of an hour-long pilot was roughly $4 million.
Now, to be clear, I'm talking budgets here, not ad buys.
When it comes to buying ads, different shows rise to the top. Last October, Ad Age said that the most lucrative ad spots of the moment live within NBC's Sunday Night Football ($339,700 for 30 seconds). Among the prime-time scripted shows, Grey's Anatomy commands the biggest bucks—around $240,462 for a 30-second spot.
But wait, you ask, what about James Cameron? Wherever there is a camera, he can certainly spend money, yes? Of course. Remember the show Dark Angel, which launched Jessica Alba back in 2000? When it debuted, it was rumored that the two-hour pilot cost a dizzying $8 million—one of the most expensive TV shows ever made!
As for Boardwalk Empire, here are the deets:
Buscemi stars—as a guy named Nucky, no less—Scorsese directs and Walhberg is listed as a producer. It takes place in the 1920s in Atlantic City; Nucky is apparently equal parts gangster and politician.
No word yet on whether Pauly D or The Situation will be making guest appearances.
_________
Scorsese got a special Golden Globe Award this week. See who else won in our Winners! gallery.