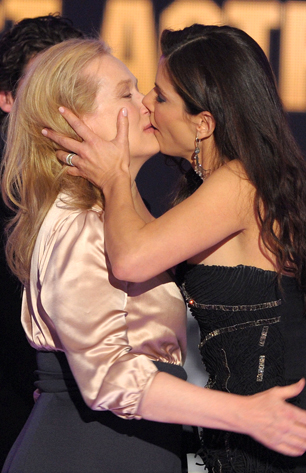 Kevin Mazur/Getty Images for VH1
Sandra Bullock is majorly girl crushing on Meryl Streep.
"It was mindblowing and unbelievable," Bullock told me on the Golden Globes red carpet about her Critics' Choice lip-lock with the acting legend. "It ranks like in the top two moments in my life." (We're going to assume marrying hubby Jesse James is number one.)
The Blind Side star laughed that we should expect more lovin' between her and Streep. "She kind of wants me," Bullock cracked. "I think we may do a movie together that has a little sapphic element to it. Everyone's been like, 'Let's get them together as lovers.' "