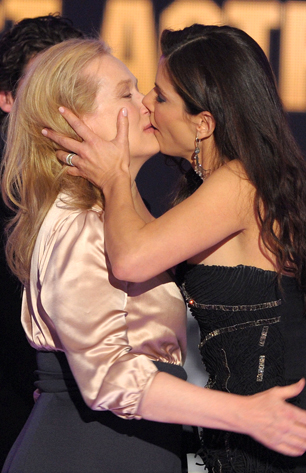 Kevin Mazur/Getty Images for VH1
Tonight's king of the world turned out to be a queen. Several queens, in fact.
James Cameron's Avatar went home with a full sack of technical honors, but Kathryn Bigelow's Iraq war stunner The Hurt Locker was named Best Picture at the 15th Annual Critics' Choice Awards, where the big winners tend to match up with the picks come Oscar night more often than not.
Not only did the film take its umpteenth top prize of the season so far, but Bigelow was deemed Best Director, the first time a female auteur has won the prize.
"As every filmmaker knows, nobody stands here alone," the director said upon accepting her individual honor. Calling her cast and crew "exceptional," she continued, "This was a punishing shoot but this is such an amazing honor...The recognition should also go to the men and women who are in the field to this day."
But at least the salty military language prepared her for Sandra Bullock's response when found out that she had tied Meryl Streep for Best Actress.