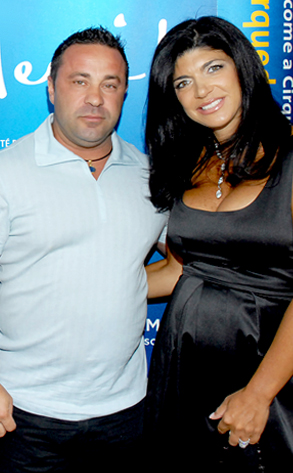 Michael N. Todaro/ Getty Images
The Jersey housewives don't have dibs on all the drama.
Joe Giudice, hubby of table-tossing Real Housewives of New Jersey star Teresa Giudice, got himself into a hot legal mess in the wee hours this morning after crashing his car and winding up in trouble with two different police departments.
Capt. Ed Rosellini of the Montville Township Police tells E! News the crash occurred around 1:45 a.m. "It was a motor vehicle accident, and he was taken to the hospital. Officers believed he had a drink and he was then tested for alcohol and charged accordingly."
Giudice, who has four young children with Teresa, faces charges of driving under the influence, reckless driving, careless driving and failure to maintain lane. The arrest tipped off the nearby Clifton Police Department, which then took him in on outstanding warrants for a number of city ordinance violations. He finally got out of jail around 6 a.m. after posting $2,625 bail.
The worst part? Now he has to go home and face his missus. Duck!