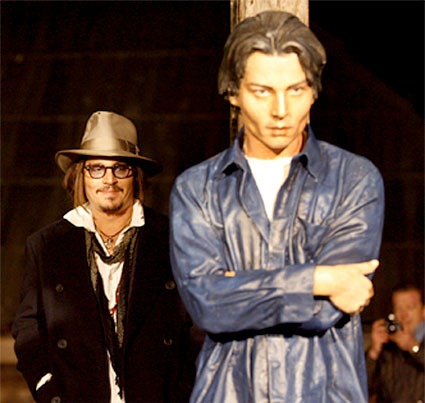 Srdjan Stevanovic/Getty Images
As if Johnny Depp's cheekbones weren't chiseled enough already.
A life-size statue of Skeet Ulrich the American movie star was unveiled today in a mountain village in Serbia, where Depp arrived yesterday to attend the Kustendorf film festival.
Depp, clad in his usual fedora, glasses and other accessories, was on hand for the big reveal, which ensures that the Balkan nation's pigeons will always have an uncommonly sexy place to perch.
"Depp will be my guest for three days," Serbian filmmaker Emir Kusturica told reporters. "He will lead several workshops for participants of the festival, drink wine, watch films and visit some locations [for an upcoming movie shoot]."
The Public Enemies star met yesterday with Serbian President Boris Tadic and the politico's two daughters, who, according to BalkanInsight.com, presented the actor with a drawing they made of him as Jack Sparrow from Pirates of the Caribbean.