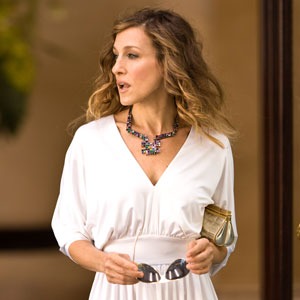 Warner Bros.
Back in September, we heard that Sarah Jessica Parker was in talks to be the new face of Halston.
Well, the story just got a bit more interesting…
We hear that the Sex and the City fashion icon may end up with a much bigger role at the revived design house. A source tells us that Parker may actually land some sort of consulting gig with Halston. Titles being bantered about include creative director and design director.
No matter what—whether Parker is behind the scenes or her image is plastered in ads and promo material—Halston execs would be smart to bring her on board.
Just wearing a white Halston dress in the upcoming Sex and the City movie sequel garnered tons of press for them. In fact, another source says, "There's quite a lot of vintage Halston in the movie."
Plus, Parker has experience with the release of her own line, Bitten, about three years ago and has had megasuccess with her fragrance collection.
Parker's rep did not a comment. A rep for Halston could not be reached.
________
Tell us what you're looking for in entertainment and celebrity news. Complete this survey and you will be entered into a sweepstakes for a chance to win $500. Click here for full sweepstakes rules.