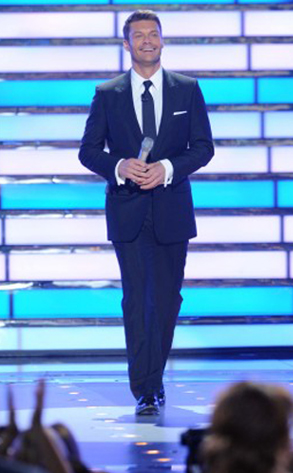 Ray Mickshaw/FOX
Does Ryan Seacrest have it in him to start playing favorites on American Idol?
Sources tell E! News that the idea of Seacrest doubling as host and judge remains in play as producers grapple with the question of how to keep the Fox show afloat once Simon Cowell jumps ship after this season.
"Anything is possible," says an Idol insider. "Stay tuned."
Fox can only hope that the tens of millions of people who've made Idol the No. 1 show on TV for years continue to stay tuned following the departure of Paula Abdul—the No More Miss Nice Judge edition premieres tonight!—and the arrival of Ellen DeGeneres as, um, the Funny Judge?
But while E! Online readers have informed us that they hope Simon's replacement also has a British accent, Cowell himself said today in an interview with frenemy Seacrest that the longtime Idol host would make a good addition to the panel.