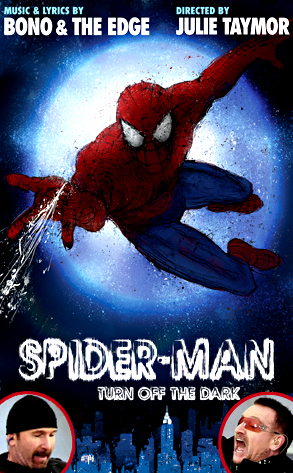 Courtesy Spider-Man, Turn Off the Dark; Mark Wilson/ Getty Images
UPDATE: We'll believe it when we see it, but producers of the musical say Peter Parker & Co. will premiere on Broadway Dec. 21, 2010. Previews begin on Nov. 14.
________
Spider-Man has played savior plenty of times. But judging by the week he's having, we'd be hard-pressed to find a damsel in quite as much distress as the superhero himself.
A day after the news that Spider-Man 4 has gone to that big web in the sky comes word that the U2-scored Broadway musical version is also on its last legs. All eight of them.
Producers of the clunkily named Spider-Man: Turn Off the Dark announced today that they would be offering refunds to any fans who were deluded hopeful enough to spring for tickets for the show's inaugural run. Previews were scheduled to start (and according to their woefully outdated website, still are) on Feb. 25.
Instead, producers of the Marvel musical—which will be directed by Julie Taymor and star Evan Rachel Wood and Alan Cumming—say the show will now open at an unspecified date later in 2010.
Until then, consider Peter Parker parked.