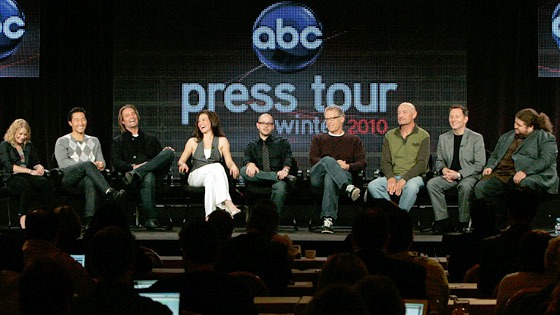 ABC/RICK ROWELL
"Your Libby questions will be answered," says Lost executive producer Carlton Cuse. "No, they will not!" barks back Lost cocreator Damon Lindelof.
That's the news out of the last-ever Lost panel at press tour: Cynthia Watros (who played "tailie" and Hurley love interest Libby) and Harold Perrineau (original character Michael Dawson) will be returning for season six. Holler!
What else is coming for us fans? Well, the first footage of the new season will be released in "message in a bottle" format (they suggested it would actually be washing up on beaches worldwide), and we got a hint about the new episode format that will be replacing flashbacks/flashforwards/time travel. Here's what we learned from the producers and castmembers Emilie de Ravin, Daniel Dae Kim, Josh Holloway, Evangeline Lilly, Terry O'Quinn, Michael Emerson and Jorge Garcia...
Lost Panel Liveblog
9:05 a.m.: ABC president Steve McPherson wants to thank a lot of Lost people: "The crew in Hawaii has been a phenomenal, phenomenal team, through all these years." More kudos for cast, crew, writing, including castmembers who have come and left along the way. Notes that the show has been nominated for 156 awards. McPherson thinks that giving the show an end date makes the stakes of the final season even higher.
9:07 a.m.: Clip replaying a lot of show and fandom footage to the sound of "Addicted to Lost." And now in 2010, voice-over man says, "All the lives on board of Oceanic flight 815 will find the answers to the greatest question of all..." (Wait, what's the question?! Finish your sentence, voiceover man!)
9:10 a.m.: How are they all feeling about the end of the show? Evie says, "I am going to cry like a baby when this show ends...It's been so intense that for it to come to an end is going to be life-changing. Jorge: "It's very precious." Josh: "There's a lot of magic, like the first season was an incredibly magically year...This last year has really had that sense of camaraderie." Emilie: "It feels more like the first season than the in-betweens." Damon Lindelof: "I can't believe they're actually going to let us get away with this."
9:13 a.m.: When did they decide how to end the show? Carlton Cuse: "We came up with the final image when they were first plotting the mythology in the first season, and we have been adding elements as we went along. Between first and second season is when we cooked the mythology—the end is not yet written—but there are mythological architectural elements that are intact [from that original idea], the character stuff gets worked out in between."
9:14 a.m.: When did Terry O'Quinn know that Locke was dead? "I knew when you knew, in the story," says TOQ. "And it was easier to play whoever Locke is now before I knew I wasn't playing Locke."
9:17 a.m.: For the record, they are not being pressured to do a spinoff. Evie says they'll all just "hibernate" after the series is over.
9:18 a.m.: Favorite moments?
Emilie de Ravin: "Moments when the original cast is all together hanging out. It has a special feel to it."
Daniel Dae Kim: "The launching of the raft was a special time for me...coming together to see off that first season was memorable."
Josh Holloway: "I have so many, but I like group scenes. They take two, three days to film, because you have to cover everyone, but if you position yourself right, you can just cut up and have fun."
Evangeline Lilly: "Sangria Thursday...it's a season-six tradition. For me the most memorable moment was in the first season, the episode where Claire gave birth and Boone died. To me, it culminated everything we were talking about on the show...I don't often cry watching my own show, but I watched that episode and I cried, and I remember thinking this is something I'm proud to be a part of."
Damon Lindelof: He mentions new-season pitches to the executives over the summer, and having to face telling the president of ABC, "What's in the hatch?" One year they asked each other before going in, "Is there any other way to say time travel?"
Carlton Cuse: Carlton likes the raft launch, too. "The orchestra that does the music applauded first time they heard/played the music [over that footage]."
Terry O'Quinn: "There's no special moment...but sitting under the banyan tree and listening to Naveen Andrews playing the guitar and singing songs...pretty sweet."
Michael Emerson: "I have lots of memories of breathless confrontations in small rooms. And when Sawyer and Ben were standing on a cliff [in Hawaii], trading quotes from Steinbeck, and I had a rabbit in a backpack, I thought, We should just stand here and experience this."
Jorge Garcia: "For me, running away from an exploding plane wing is always going to be a memory. And when the comet hits Mr. Cluck's, and I'm lying there, and they're throwing raw chicken parts at me."
9:27 a.m.: Jorge, Josh and Emilie say the premiere is, well, mind-boggling. Damon Lindelof: "Get ready to scratch your heads, America!"
9:30 a.m.: Carlton Cuse says, "The season premiere picks up right after the finale, and we don't want to say too much about it. We've been very circumspect about the sixth season because of the cliffhanger...We don't really want to give away what the show is going to be this season."
9:31 a.m.: When asked about how secure he feels about the finale, Damon says, "All we can do is put our best foot forward." He says the worst ending that they could provide is the safe ending, nor can they take a risk to take a risk. Overall, Damon thinks, "There are some who will say it's the worst ending in TV history, and to balance that out over here...my mom."
9:34 a.m.: Damon clarifies that there will be 18 hours of Lost on TV this season, with a two-hour premiere and two-hour finale, aired over 16 consecutive weeks.
9:37 a.m.: Someone asks Damon about the conflict with Obama, and he says, "I'm a lifelong Democrat, but when I first heard they were considering Feb. 2 for the State of the Union, I was like, 'That motherf--ker.' "
9:37 a.m.: Carlton scoops that new footage from season six will appear in promos right before the premiere launches. Bottles are going to wash up that will have clips from the premiere.
9:39 a.m.: Damon teases the nature of season six saying, "We'll show who [the characters] used to be and who they are now...it makes you feel like we felt in season one."
9:40 a.m.: Regarding recent lack of Emmy love, Carlton says it's hard to promote and/or even explain such a serialized show via screener DVDs.
9:43 a.m.: Matthew Fox isn't here today because he's working. When asked to translate his feelings about the show ending, Damon says, "Matthew was here in Rome with us this summer [promoting the end]...He seemed to share the sentiment of everybody else of being enormously excited that the show was ending and enjoying looking back on the ride."
9:44 a.m.: Someone wants to know if we might have already seen the end of the show based on the flashforwards? Carlton: "No, you haven't seen the ending yet."
9:46 a.m.: Split decision on the question of if the castmembers will do conventions for the next 20 or 30 years. Terry O'Quinn says, "We all hope we have something better to do." Josh Holloway quips, "Oh, I'm retiring. I'm only doing conventions," as he pantomimes accepting cash for handing out autographs.
9:48 a.m.: Last-minute scoop: Harold Perrineau will be back on the show this year, and Cynthia Watros will be appearing on season six. Carlton: "Your Libby questions will be answered." Damon: "No they will not!"
Sounds juicy, right? Tell us what you think!
Kristin's interviewing the Losties shortly so tweet your Q's to her at @kristinalert.
________
Tell us what you're looking for in entertainment and celebrity news. Complete this survey and you will be entered into a sweepstakes for a chance to win $500. Click here for full sweepstakes rules.