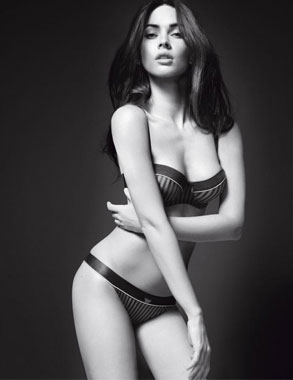 Courtesy of Armani
Yowza!
That's what we said when we saw the hot new ads for Emporio Armani Underwear featuring Megan Fox. Well, that, and Victoria Beckham who?!
As has been well-documented, Posh and her husband David are no longer the faces bodies for the brand and have been replaced by younger models (sound familiar, Angie?) Fox and Cristiano Ronaldo. However, unlike the latter couple, the new duo won't be photographed together.
"Megan is young and sexy and has a lot of spirit," Giorgio Armani tells WWD. "Both Emporio Armani Underwear and Armani Jeans are all about a youthful attitude, making her the perfect choice for the collections."
Megan's got attitude, all right! She and her come-hither look—as well as that ridiculously cute bra-and-panty set—will grace February fashion mags and billboards in major international cities.