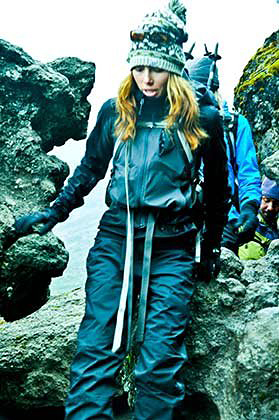 facebook.com
Into the wild, indeed.
Jessica Biel, Emile Hirsch and their fellow Summit on the Summit climbers ran into a blizzard Monday on Mount Kilimanjaro, on what was their fifth day of hiking the 19,340-foot peak to raise awareness of global water issues.
"It's pretty gnarly," United Nations Foundation exec Elizabeth Gore told People via satellite phone from about 16,000 feet up. "The visibility is only 10 feet in front of you. And it's cold. I've got six layers on."
Calling it "pretty kickass" how all the activists who started the climb have persevered so far and are still with the group, Gore said that Biel is "doing awesome."
Other famous faces making the treacherous trek include Lupe Fiasco, Isabel Lucas, Jacques Cousteau's granddaughter, Alexandra, and Ethiopian musician Kenna, who organized the expedition.
They're expected to reach the summit of the Tanzanian mountain after another day of climbing.