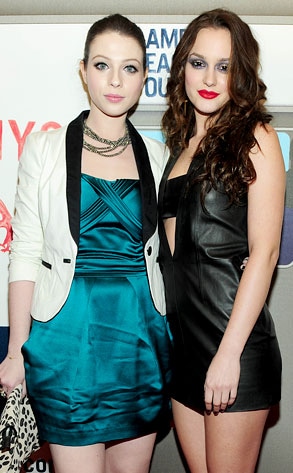 Courtesy: Albert Michael/startraksphoto.com
Attention Upper East Siders: Hide your men and your liquor!
Yep, Georgina (Michelle Trachtenberg) herself tells us that she's coming back to Gossip Girl—this season—and she's just scandalous as evah!
Michelle breaks the news in the video down below, and even gives us a hint as to what sort of meddling she'll be doing this time.
(Could it involve Chuck Bass' father?! Oh, how that girl teases. Love.)
Meanwhile, Heroes fans, though NBC president Angela Bromstad wouldn't comment the other day as to whether the season finale will be a cliffhanger or wrap up the show, H.R.G. himself, Jack Coleman, spills the beans on why you all will be unhappy campers if this is the final season.
All that, plus we have exclusive video you'll love with the casts of Community and The Office (whom I caught up with at the NBC Press Tour party), and the latest on Lost, Glee and more, so read on!
Jackson in New York: Kristin, I heard the Heroes already shot their finale. Is it the end of the show? Is it a cliffhanger?
Take it away, Jack Coleman and other Hero-ic friends...
Melody in Hollywood: Given that Amy Poehler and Tina Fey are best friends, will we ever see them together on either 30 Rock or Parks and Recreation?
The P-Rex cast fielded this very question at press tour on Sunday, and Amy Poehler said, "I would love to guest star on Lost—but that's on ABC. Or I Survived or Intervention or Gossip Girl. I mean, the two shows live in very different worlds. It'd be great if we tried to shoehorn a crossover, like ding-dong!" And Aziz Ansari said, "I mean, 30 Rock is a great show, but that's a terrible idea."
Keisha in West Palm Beach, Fla.: Is it true that NBC doesn't care much for Trauma and is more behind Mercy? What impressions did you get from TCA?
You can read NBC prime-time boss Angela Bromstad's comments for yourself, but yes, based on words and actions, it seems like Mercy is definitely the favored child. That said, we're hearing from insiders close to Trauma that "We're so not dead with the 10 p.m. hour opening up." Apparently the upcoming six episodes are damn good TV, and if the ratings pick up (which remains a big if, of course), Trauma has as good a chance as anything else at the 2010-11 season on NBC.
Kay in Grand Forks, N.D.: When is 10 Things I Hate About You coming back on?
We should find out tomorrow when the cast appears at winter press tour! Follow @kristinalert, and we'll tweet the news as soon as we hear. Meanwhile, if you have Q's for Ethan, Lindsey, Meaghan or the rest of the 10 Things I Hate About You cast, email us to tvdiva@eonline.com and we'll try to get you answers!
Sarah in Charlotte, N.C.: After Friday's amazing Dollhouse episode, it really stinks that Fox canceled it. Can't SyFy pick it up?
Sadly, back in November when Dollhouse's cancellation was first announced, Syfy preemptively tweeted that "Looks like Fox finally canceled Dollhouse. (No, I don't think we'll pick it up.)" As amazing as these last few episodes of Dollhouse have been, it seems pretty certain that the season finale airing in two weeks will indeed be a series finale. That's OK, though, because we're going to collectively get Enver Gjokaj, Dichen Lachmann, Miracle Laurie, Tahmoh Penikett, Fran Kranz, Olivia Williams and everyone else in the cast awesome new jobs.
Billie in Minneapolis: I'm a Project Runway die-hard. Please tell me this season is going to be good!
As we blogged last week, season seven of Project Runway has all sorts of potential, thanks to the show's return to its original stomping grounds of New York and promises of more Michael Kors and Nina Garcia, not to mention Heidi Klum being pregnant and therefore supercute and blooming throughout the season. (Klum delivered her fourth child, daughter Lou Sulola, in October 2009.) Season seven premieres this Thursday, Jan. 14, at 10 p.m. on Lifetime.
Mary Beth: Any word on when NBC will be premiering the current season of Friday Night Lights? I heard a rumor that they had yanked it from their listing with no plans on when to air. Tell me this isn't true!
The show's studio rep tells me, "Unfortunately NBC has not announced a premiere date for season four. I'm hoping they will announce it soon, as the season will be ending on DirecTV in early February." You and me both, sister! We don't have to start another fan campaign to make sure NBC runs Friday Night Lights, do we? Now that NBC and E! are all going to be part of Comcast, I'm sure I can just send a nice interoffice memo and get the job done, right?
Frances: Anything on Chuck Bass' mother on Gossip Girl? Please!
Well, Michelle teases that her return to Gossip Girl may have something to do with Chuck's upcoming family drama in the video below, but I'm pretty certain she's kidding. See for yourself in the video above, including her pitch to have a Dawn Summers-Dawson Leery romance on Mercy with James Van Der Beek. Um, yes please.
Chris: Is there any hope for Dan and Serena on Gossip Girl? Any at all?
When asked about hope for Dan and Serena on Gossip Girl, my source tells me "not at the moment." But I suppose then you're rooting for Jenny to steal Nate away?
Penelope in Australia: Thank you so much for the 12 Days of Lost-mas. Got any more Lost scoop to share?
Guyliner spokesmodel and Lost mystery man Richard Alpert is getting the spotlight! I'm told that Nestor Carbonell shot a big episode all about Richard Alpert right before the holidays. 
Trace in Cape Coral, Fla.: So excited about the news of more Glee! What else can you tell us about the upcoming eps?
Let's throw that Q to the Glee kids themselves, shall we? Jenna Ushkowitz tells us, "The production value is going to get bigger and the story lines are going to get crazier. Obviously you can see we don't wait for anything. We're just excited about that. I think the bar has been raised, and so just by that we're being challenged." And Cory Monteith spills, "The boundaries get pushed in a big way actually. More so in than in the first half of the season." (By the way, I'm headed to the Fox party right now, so if you have Glee or other Fox Q's, send them to me via twitter, @kristinalert.)
Marshall: I love The Office! How about some scoop on Jim and Pam's baby?
How about this news? Brian Baumgartner (Kevin) tells me John Krasinski is directing the big Kathy Bates episode. Awesome, right? Check out the clip below for fun Office stuff...
Marisa in Pasadena, Calif.: I'm dying for more Subtle Sexuality on The Office. Any chance that's on the way?
You're never going to believe this, but The Office mastermind Greg Daniels just told us, "I've been encouraging Subtle Sexuality to go on tour." Seriously! Greg also promises there's more where that came from. "They have other songs and stuff."
Mandy in Montana: More How I Met Your Mother, please.
Did you hear that Amanda Peet is guest-starring in the Neil Patrick Harris-directed episode? She appears opposite Jason Segel in their new movie Gulliver's Travels, so it was a mini-reunion on set.
Jesse in Toronto: Thanks for the great How I Met Your Mother video! Did anyone talk about revealing the mom?
When I ask Carter Bays and Craig Thomas, aka the brains behind the whole HIMYM operation, if they might reveal the mother, then continue on with the show, Carter told me this: "Actually, yes, we've always left that option open to ourselves. The problem with the mother is that it's going to be really hard to cast a character that's more delightful than Cobie Smulders, and more delightful than Sarah Chalke. We've set the bar so impossibly high for that, so it's hard." So not for sure, but not impossible, so fingers crossed!
Scott in Phoenix, Ariz.: The season premiere of Big Love was awesome! What are we in for next week?
Sarah (Amanda Seyfried) asks Heather (Tina Majorino) to participate in the biggest day of her life so far. Heather's reluctant at first but eventually turns out to be a total champ about it. Meanwhile, Joey (Shawn Doyle) and Nicki (Chloë Sevigny) continue to push their "Bill as prophet" program, and Alby (Matt Ross) continues stalking his high-falutin' fella from the park.
Jamie in Austin, Texas: You've been holding out on the Leverage scoop, lady!
Let go of all of your doubts about Jeri Ryan stepping in as Leverage's designated grifter babe while Gina Bellman is on maternity leave. Jeri's no-nonsense character, Tara, doesn't really understand Nathan's (Timothy Hutton) freewheeling way of doing business, but she's willing to learn, and they turn out to be a great professional pairing. Leverage returns for a winter miniseason beginning this Wednesday at 10 p.m.
Jane in Poughkeepsie, N.Y.: What's this about there being new alters this season on United States of Tara? We're not losing any alters, are we?
Nope, all the existing ones are present and accounted for, but Toni Collette tells us that there will be at least two new alters. According to Tara creator Diablo Cody, "The new alter is named Shoshanna, and she's a mentor of sorts. She recognized that the family was in need of help...Shoshanna is very resourceful in that way." And Toni says that "Shoshanna is someone who has a direct relationship with Tara." (This season of USoT features the alters talking directly to Tara for the first time, rather than gliding into scenes in their "alter" costumes.)
Meribelle in Tallahassee, Fla.: Can't wait for more Nurse Jackie. What's this about Zoey getting some action this season?
We asked the lovely Merritt Wever about the booty-call situation, and she told us, "It's not a booty call, but it's definitely a situation. I don't know how much I want to say about it, but she definitely gets her pipes cleaned." Scandal! 
Megan: I love Community!
Don't we all!? Check out the funniness we found at the NBC party, courtesy of Joel McHale and the Community gang...
Berkeley in Reston, Va.: Is Peter really evil on White Collar?
Peter's (Tim DeKay) evilness theoretically remains an open question after the White Collar premiere, as does Neal's (Matt Bomer) trustworthiness, for that matter. However, we're granted a full and fairly gratifying explanation of Peter's involvement in the Kate situation that will probably help you decide pretty easily for yourself if you think he's a good guy. White Collar returns to USA on Jan. 19.
Meredith in New York City: Psych is back! So exciting! Tell us everything!
You guys are going to love the winter-season premiere on Jan. 27. It's one of their best eps in a while. WWE wrestler Jon Cena is surprisingly good (and charming!) as Juliet's (Maggie Lawson) big brother Ewen, and his presence leads to some very nice moments between Juliet and Shawn (James Roday). Oh, and speaking of Shawn and his love interests, there's a turn in his relationship with Rachel Leigh Cook's character that you guys will not hate.
Jill in Bentonville, Ark.: So excited for new eps of Burn Notice! What do we have to look forward to?
Have you heard about the Cagney & Lacey reunion? Tyne Daly guest stars on the winter-season premiere on Jan. 21, and Michael forces his mom (Sharon Gless) to cultivate Tyne's character as in intelligence asset, because, he says, they share a wardrobe and a cigarette brand. It's good stuff, even if you were born after Cagney & Lacey ended and you've never seen an ep in your life. In other news, Sam (Bruce Campbell) helps Michael Weston (Jeffrey Donovan) investigate his new nemesis, while Michael and Fiona (Gabrielle Anwar) continue to, uh, punch up their relationship after Fiona's attempt to leave Miami and return to Ireland earlier this season.
Sera: I know I'm one of, like, three people who still cares about Heroes, but after your reporting about his exit, I was extremely surprised to read about Adrian Pasdar being on set just before they broke for the holidays. Anything spoilery to it, do you know? Judging by the results of that poll you did on his exit, I'm not the only one crossing my fingers that there is!
I'm crossing my fingers we'll see him again, too. But I'm told that as of now there are no plans for Adrian's return. A rep for Heroes tells me Pasdar was on the Heroes set visiting friends that day, after spending time with the NBC team helping out at the L.A. Food Bank.
Anonymous Ghost Whisperer Fan: Jennifer Love Hewitt has been dating her Ghost Whisperer costar Jamie Kennedy for a while now. Please tell me there is no truth to the rumored storyline of a love triangle between Melinda and her two leading men. That would ruin the show!
No worries. We asked Ghost Whisperer show runner P.K. Simonds about this unsettling rumor, and he reassured us that Melinda and Jim are solid: "There's no truth to it whatsoever," he said. "While things are definitely going to heat up for our characters, it's nothing like what you describe. We've spent way too much time making the case that Jim and Melinda were joined by fate to ever undermine that with a triangle. Love enjoys working with Jamie, of course, but she never allows that to interfere with our storytelling. Luckily their scenes together are great, so we have plenty of reasons to get them into the same frame without resorting to onscreen romance." Whew! Mel + Jim 4Evah.
—Additional reporting by Jennifer Godwin, Megan Masters, Taryn Ryder and Drusilla Moorhouse
________
Tell us what you're looking for in entertainment and celebrity news. Complete this survey and you will be entered into a sweepstakes for a chance to win $500. Click here for full sweepstakes rules.