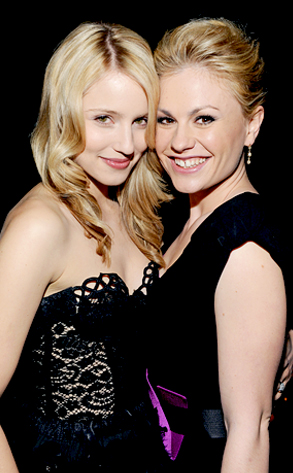 Kevin Parry/Getty Images
The Golden Globes may not be until next week, but the parties start tonight at the Sunset Tower Hotel, where Anna Paquin and Audi are hosting a kickoff bash.
Anna arrives without her fiancé and costar Stephen Moyer, but says they'll do the carpet together on the big day. Although they're engaged, she tells E! they haven't done any wedding planning.
And speaking of weddings, have you heard that Marilyn Manson and Evan Rachel Wood are engaged?
Note: Don't ask Dita Von Teese about her ex's upcoming nuptials.
"I can't believe you asked me that," Dita says, before halting the interview and having the cameraman erase the tape. (We would have totally accepted a "no comment.")