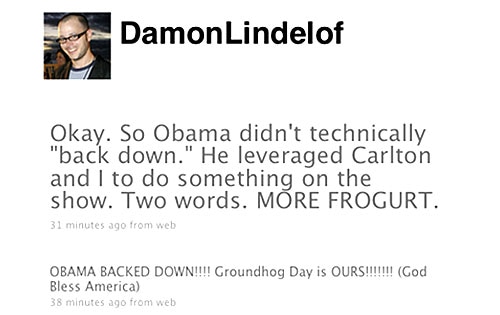 Twitter
Never underestimate the power of a trending hash tag on Twitter. #NoStateofUnionFeb2 has done its work well, because the president's State of the Union address will not be preempting the season-six premiere of Lost after all.
White House press secretary Robert Gibbs has announced today that while the annual speech has not been officially scheduled, the big to-do will definitely not land on Tuesday, Feb. 2, as was previously feared.
And while the White House didn't admit that public pressure from Lost fans did the trick, there was some talk that the Dharma Initiative was involved...
The topic came up at today's White House press briefing when ABC Radio reporter Ann Compton asked about the scheduling situation. Gibbs responded, "I don't foresee a scenario in which millions people who hope to finally get some conclusion with Lost are preempted by the president," and then remarked that he was intrigued by ABC News reporters querying the White House on this topic on behalf of their corporate cousins at ABC Entertainment. At which point ABC White House correspondent and noted Twitterista Jake Tapper (@JakeTapper) quipped, "How about on behalf of the Dharma Initiative?"
Nicely played, sir!
As for the reaction from Camp Lost, cocreator and executive producer Damon Lindelof tweeted, "OBAMA BACKED DOWN!!!! Groundhog Day is OURS!!!!!!! (God Bless America)...Okay. So Obama didn't technically 'back down.' He leveraged Carlton and I to do something on the show. Two words. MORE FROGURT." And partner in crime Carlton Cuse tweeted, "No State of the Union conflict with LOST! We go Feb. 2!"
Hallelujah! Now, in thanks to our fearless leader for his grace in scheduling the State of the Union somewhere that's not Groundhog Day, we ask only two things of you:
Tweet your thanks to @BarackObama
Next time the Gallup Poll calls your house and asks what you think of POTUS' performance, tell them that at the very least you're happy about the Lost thing, 'K?
What are you most hoping to see from the season premiere of Lost? And heck, what are you most hoping to hear from the prez at the State of the Union address?
________
Are you a Lost fan? Don't miss our spoiler-tastic 12 Days of Lost-mas series!