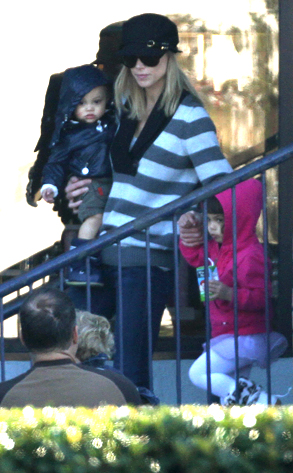 INFphoto.com
We can't help but be a little inspired by Elin Nordegren.
She may not have filed for divorce or pulled a Brooke Mueller just yet, but here she is, once more, going about her day with her two kids as if nothing ever happened.
Even though Tiger Woods' wife is wearing a hat and shades and is surrounded by security guards, she's certainly not playing the victim and holing up at her Florida home.
Speaking of holing up, seriously, where is Tiger?! He's been in hiding ever since the Thanksgiving incident that launched a gazillion mistresses, and we haven't heard a peep from him since he declared his "indefinite break" from golf.
While we know he's supposedly been spotted in New York City and we've seen his boat, Privacy, leaving the dock, we have yet to see photographic proof.
Until then, we'll just have to applaud Elin's tenacity and fabulous taste in sweaters.