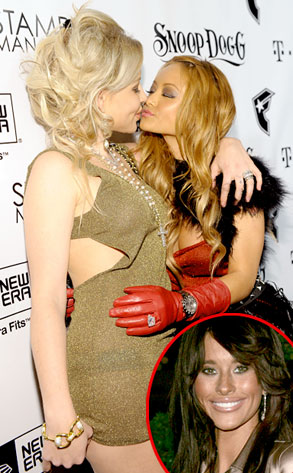 Michael Buckner/Getty Images; Ferdaus Shamim/Getty Images
Tila Tequila isn't just clashing with Nicky Hilton Rothschild and Bijou Phillips. She's continuing to fight battles on behalf of her deceased fiancée, Casey Johnson.
The heiress was arrested in November 2009 for allegedly stealing jewelry, clothing and a legal document from ex-girlfriend Jasmine Lennard. Early this morning, the MTV reality star posted a tirade against Lennard on her blog filled with so many curse words, we almost had to wash our computer screens off with soap!
Not surprisingly, Lennard isn't pleased.
Her lawyers have since sent a cease-and-desist letter to Tequila, threatening to sue her pants off if she doesn't make the post disappear.
"Should you fail to comply with our client's stipulations, you will be exposed to extensive liability in damages and legal costs in this jurisdiction," the document reads.
But that's not the only legal document Tila has seen lately.