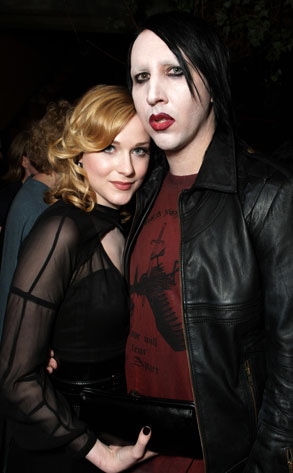 Eric Charbonneau/Getty Images
You might have heard that Marilyn Manson and his reunited honey Evan Rachel Wood just got engaged.
That's half right.
The 41-year-old shock-rocker and 22-year-old True Blood actress are indeed betrothed. But unlike what's been reported everywhere from Britain's Daily Mirror to People, the couple didn't get engaged at a Paris concert on Monday.
Instead, they got engaged at his Paris concert back on Dec. 21, a source close to the pair tells E! News.
Reps for the stars declined to comment. But our source says Mr. Antichrist Superstar (real name Brian Warner) bought a ring and a rose for the occasion and canoodled backstage with the actress afterward.
Manson's first matrimonial go-round, to burlesque star Dita Von Teese, was torpedoed in 2007 after he hooked up with Wood, who had starred in his video for "Heart-Shaped Glasses."
He and Wood broke up in 2008 only to reconcile last April.