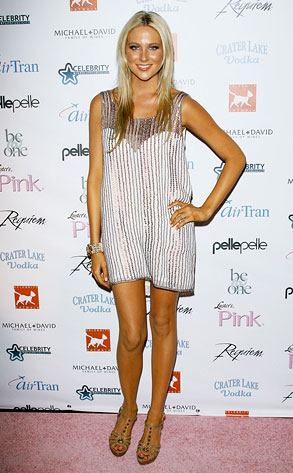 Michael Tran/Getty Images
Pretty Hills hotties don't belong in jail.
Good thing Stephanie Pratt isn't headed there, even with that whole "my heels made me do it" excuse.
The MTV reality star reached a deal with the district attorney stemming from her Oct. 18 DUI arrest following sister-in-law Holly Montag's birthday bash at a Hollywood nightclub.
To avoid donning an unflattering orange jumpsuit, she pleaded no contest to the reduced charge of exhibition of speeding and vowed to enroll in a three-month alcohol-treatment program and to spend eight weeks wearing those heels to Alcoholics Anonymous meetings. She'll also have to manage 36 months of probation.
"I'm happy about the outcome," a smiling Pratt told E! News exclusively. "I enrolled in Betty Ford Clinic for two weeks right after my DUI arrest."
Even though she'll be spending time dealing with her sentence, prepare to see much more of the 23-year-old in the coming months. Shooting on The Hills resumes next week.
"I'm looking forward to getting back to work," she said.