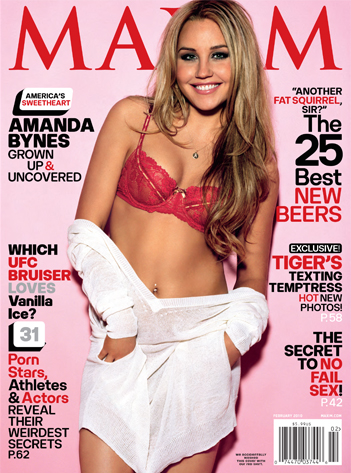 Maxim Magazine
Retract those claws, Bar Refaeli! (Assuming, of course, you and Leonardo DiCaprio are back on.)
As much as we like a good catfight, Amanda Bynes isn't looking to steal your man. She just wants to smooch him onscreen.
In her quest to prove she's no longer that squeaky-clean Nickelodeon kid, the 23-year-old has stripped down for the February issue of Maxim.
Inside, Amanda says that while she's not opposed to doing sexy movies, "I'm not gonna do porn." Yet, if a scene did call for her to lock lips with Leo she'd be all for it.
"Ha, yeah, then I wouldn't mind!" she reveals.
Time will tell if the What a Girl Wants star really gets what she wants.