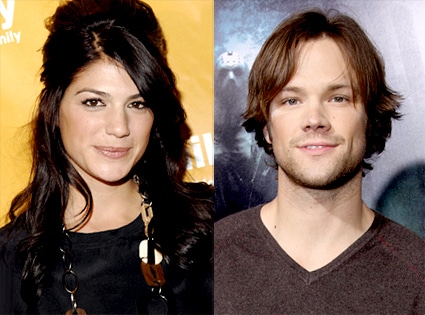 Jemal Countess/Getty Images; Eric Charbonneau/Getty Images
Sorry, Sam girls.
Reps for Jared Padalecki confirm to us exclusively that the rumors are true, and he is engaged to marry former Supernatural costar Genevieve Cortese.
Padalecki plays Sam Winchester on the CW's cult-hit series about a pair of demon-hunting brothers on a destiny run; Cortese appeared on the fourth season of the series as the second embodiment of the comely but eeeevil demon Ruby. (Melrose Place star Katie Cassidy played Ruby's first iteration.)
So how did this happen, and when's the big day?
The couple, whose characters shared some superhot sex scenes and a dysfunctional but intense relationship during their time together on the show, have been dating very, very stealthily.
Padalecki's reps declined to confirm Internet reports of a late-winter wedding date.
Jensen Ackles, who plays Padalecki's onscreen older brother Dean Winchester, got engaged in fall 2009 to Danneel Harris.
What do you think of this news? Are you heartbroken, happy for Jared and Genevieve, annoyed that evil Ruby is getting lucky with Sam all over again, or maybe just some combination of all of the above?
_________
If you've seen it, you know that Supernatural is one of TV's Spookiest Shows! If you haven't yet, you must start watching—SPN is fabulous!