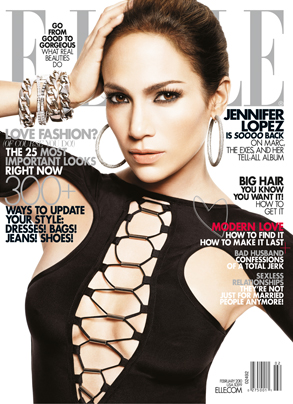 Elle Magazine
• Wow, Jennifer Lopez is more delusional than we thought. We should have known when she declared her El Cantante performance Oscar-worthy. Well, she has even more praises to sing for her own work, telling Elle, "I think Maid in Manhattan and Monster-in-Law are very layered movies." LOL, what?! Also, FYI, she's never considered in vitro fertilization because of God. The end.
• Let it be known: Paris Hilton is finally ready to get married. She sees a "very bright and happy future" with Doug Reinhardt because he bought her lots of diamonds for Christmas and they had a really awesome vacation that one time they rented out an island in Fiji.
• These Twilight girls will get naked for anything. Ashley Greene takes it off for SoBe Lifewater. At least with the last one it was under the guise of a "good cause."
• For the most part, Miley sounded pretty down-to-earth in her Bazaar profile, but she did say one crazy awesome thing: "I thought it was so cool when girls would ask me, What's your shirt? And I'm like, Hanes, but I have $60,000 worth of jewelry on top of it!" Total diva status secured.