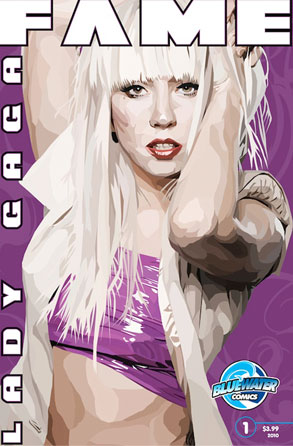 Blue Water Comics
With her penchant for freaky fashions, leotards and headpieces, one might argue Lady Gaga is a comic book hero on a daily basis.
On May 5, she'll become one for real.
Of course, Gaga looks less superhero-esque than usual on the cover of the premiere issue of the Fame series. In fact, we think she just looks downright super.
Bluewater Productions—the publisher behind the Female Force biographical series that's featured J.K. Rowling, Stephenie Meyer and Michelle Obama—is launching the new group of "culturally relevant" celebrity comics. Future installments include Robert Pattinson (squee!), Taylor Swift, David Beckham and 50 Cent.
This isn't Gaga's first time getting animated—she was depicted on a cross for a special edition book distributed in Marc Jacobs stores.