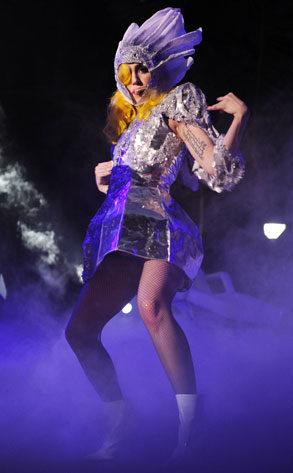 Seth Browarnik/startraksphoto.com
Lady Gaga hosted the biggest New Year's Eve party by performing poolside at the fab Fontainebleau hotel down in South Beach.
Gaga busted her robotic-like dance moves to a crowd of thousands, some of whom paid around that to see the 23-year-old performer.
Seriously, if you wanted to see the Lady in style, cabanas were going for around $25,000!
Right when the clock struck midnight, Lady Gaga appeared in a crazy silver getup rocking yellow hair, and the crowd rushed the stage. The audience went wild as she slithered out (coming straight from an earlier performance in Miami), wished the crowd a "happy f--king New Year" and started off by performing "Bad Romance."
And what about the slew of celebs in attendance during all this?