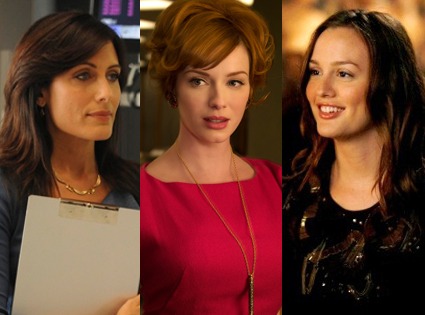 Mike Yarish/FOX, Frank Ockenfels/AMC, Giovanni Rufino/The CW
All we have to say about this Elite Eight round of Girl on Top is ouch, ouch, ouch and ouch, because the matchups are downright painful for us die-hard TV fans.
Two CW faves are going head-to-head in the first game: How are we supposed to decide between Smallville's Chloe (Allison Mack) and Gossip Girl's Blair (Leighton Meester)?!
The second game is a matchup between two titans of female empowerment: Elizabeth Mitchell's Erica Evans (V) and Christina Hendricks' Joan Holloway Harris (Mad Men). The bracket gods are cruel indeed.
The third game is rough for Fox fanatics—House's Lisa Cuddy (Lisa Edelstein) versus Fringe's Olivia Dunham (Anna Torv)!—and the fourth game is a brutal cage match between two supertough fangirl faves as Glee's Sue Sylvester (Jane Lynch) takes on Chuck's Sarah Walker (Yvonne Strahovski).
What are we to do? Well, get in here and vote!
How do you feel about these new competitions? Any heartbreaking losses so far, or are these your leading ladies of choice? Vote away on round three all week. This round closes and the next round will open on the morning of Tuesday, Jan. 5. Enjoy!