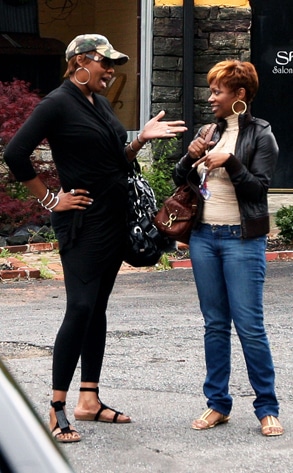 Wilford Harewood/BRAVO
How much are the Real Housewives paid per episode? I get the feeling that they couldn't afford the lifestyle they portray if it weren't for the salary and perks provided by Bravo.
—David N. via the Answer B!tch inbox
As hard up as some of the ladies appear to be—what with NeNe Leakes and Kim Zolciak of The Real Housewives of Atlanta apparently demanding more cash for electric bills, clothes and such—overall, weep not. For the Real Housewives of Anywhere.
According to my sources, there are some seriously pitiful reality show paychecks out there, but the ones given to the Housewives aren't among them.
Check out the numbers:
First the really horrific paycheck figure, courtesy of our friend Robert Galinsky of the New York Reality TV School. And before you ask, I will repeat what I say every time I mention Galinsky and the New York Reality TV School: Yes, there really is a school devoted to getting you on reality TV.
Moving on. "My understanding is that some per diems are still pretty lousy," Galinsky tells me. "We're talking $100 to $150 a day for some shows," particularly competition-style reality shows. "That's pretty standard with some shows, along with room and board," he says.
But not so much when the show is more about watching people and less about simply picking them off. Then, the numbers apparently go up into the thousands per episode—and sometimes into the seven figures.
One well-connected source tells me that "Kristin Cavallari was paid $1 million flat to do the return season [airing now] of The Hills on MTV." As for something like The Real Housewives, one report indicates that the New York cast earns about $30,000 an episode, and that general ballpark—mid five figures—was backed up by some casting people I contacted through Mark Yawitz, of the reality jobs website RealityWanted.com. As for Atlanta, the five figures also probably apply, though whether it's any lower to coincide with a smaller cost of living, I couldn't tell you.
Either way, I'm told, the pay is more than enough to handle bills from utility companies.